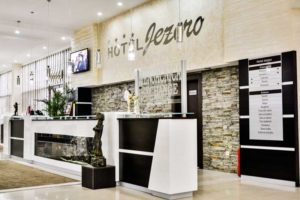 Fulfills all European standards for a four-star hotel and occupies the area of over 12,700 m2.
This prestigious hotel-tourist complex will astonish its guests with balanced architecture, modern interior design and the highest level of service and offer.
In case you are looking for rest from the everyday stress, peace and quiet, spending time with your family and relaxing, relaxing strolls and excursions to beautiful sites, celebrations and gatherings, organized congresses, athletic preparations, SPA treatments and massages, training and fitness-you can find all these at the hotel 'Jezero'.
At the same time, you will enjoy the diverse international cuisine, as well as the local gastronomic specialties, prepared for you by the best international and domestic chefs.
Bor Lake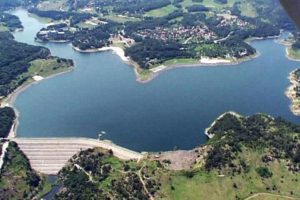 At a distance of 17 km from Bor, at the foot of the Crni Vrh mountain, the mountain watercourses were captured by a dam in 1959. The nature accepted this human decision as its own. So, Bor Lake was created as one of the tourist pearls of the Bor municipality. At an altitude of 438 m, a smooth surface of 30 hectares of the lake water is a mirror for the picturesque and magnificent beauty of surrounding landscapes.
The crystal clear lake water gets dark green in the summer months and its surface layer reaches a temperature of 25 degrees Celsius, which makes it extremely pleasant for swimming. Slightly razed and picturesque shore and coastal areas with the well-organized beaches, recreational and walking paths, sports fields and other facilities, besides rest, offer the opportunities for sports, recreational, picnic  and cultural-manifestation activities, and thus make Bor Lake one of the most attractive tourist spots in this part of Serbia.
Outstanding position and good transport links enable the organization of trips to Bor, Brestovacka Spa, the Lazar canyon and caves, Felix Romuliana, Rtanj, Dubasnica, Crni vrh, the spring of river Mlava, monastery Gornjak …
Bor Lake is an ideal place for fishing. The clean mountain water that flows into the lake, as well as regular annual feeding, make it a suitable habitat for a large number of fish species such as carp, bream, catfish, perch, bandar, grass carp, silver carp, and all kinds of white fish. They are not uncommon the capital catches of certain species, and hence this lake is very popular among fishermen.